The success from 2020 continues and this season we are once again letting people from the creative industry interpret our product range. As part of our campaign for the popular INTERMEZZO-collection, Swedish writers Emily Slotte and Caroline Borg have made a strong contribution.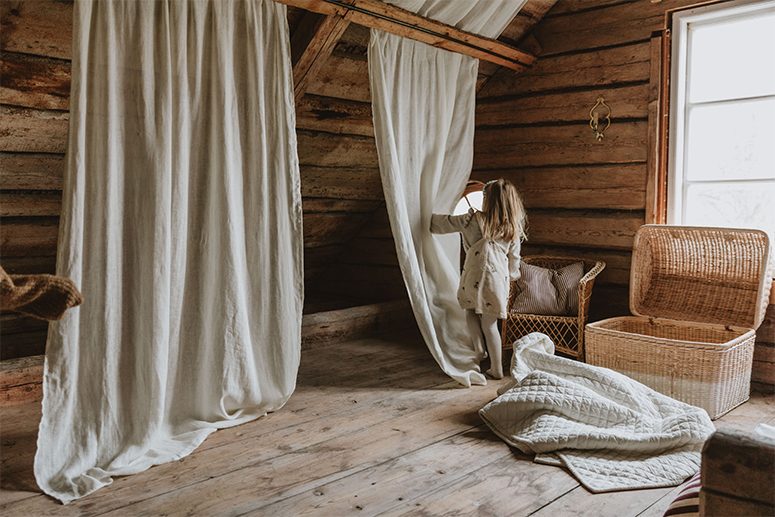 YOU OFTEN WORK TOGETHER. CAN YOU TELL US ABOUT YOUR COLLABORATION?
Being self-employed can be quite challenging and isolating, especially when you work from home. Being able to work as a duo like ours from time to time is truly a privilege and something we both appreciate. We complement each other very well, and being creative is extra fun when there are two people working together. We challenge and bounce ideas off each other and discuss things until we come up with something we're both satisfied with. Caroline is the planner of the duo who's always on top of projects, while Emily is a bit of a mess who always trusts the creative process.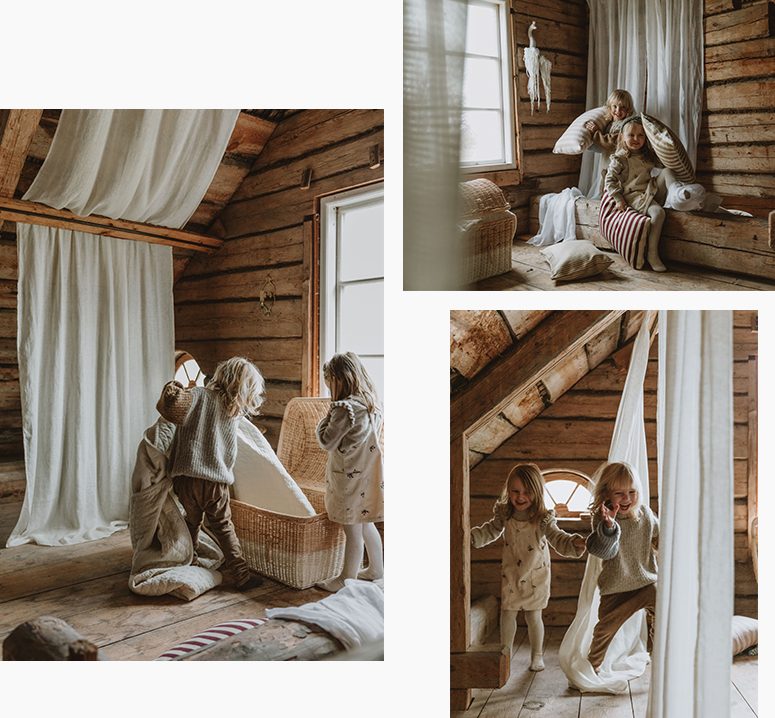 HOW DID YOU DEVELOP THE IDEAS FOR YOUR LATEST INTERPRETATION?
We wanted to photograph the curtains in a somewhat odd environment. An environment reminiscent of my grandmother's old attic, where cobwebs coexist with beautiful, polished furniture, wavy curtains and quirky objects. The children loved running through the thin curtains, building forts and playing around in the attic.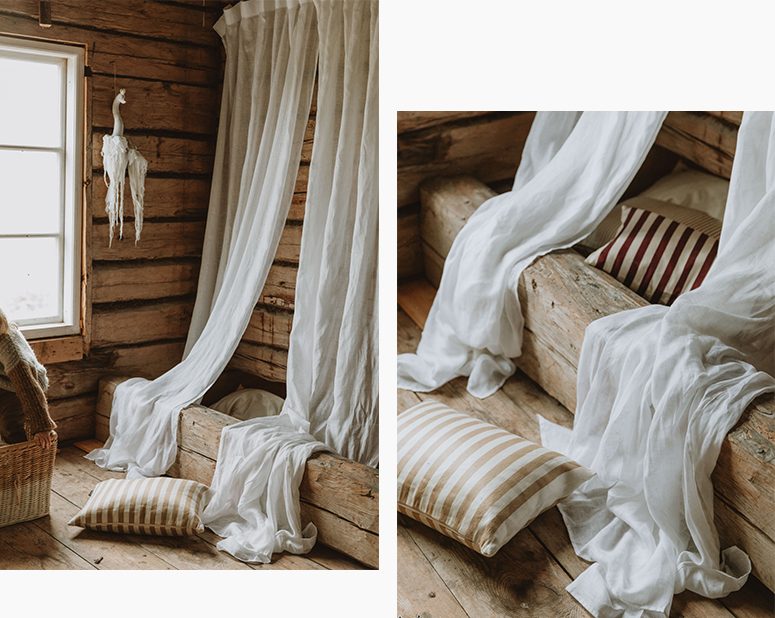 WHAT WAS IMPORTANT TO HIGHLIGHT IN THE MATERIAL?
We wanted to bring out the soft, tactile feel of the thin linen curtains and capture how beautifully they fall by hanging them from the ceiling and letting them fall across the natural wood floor. It created really beautiful contrast.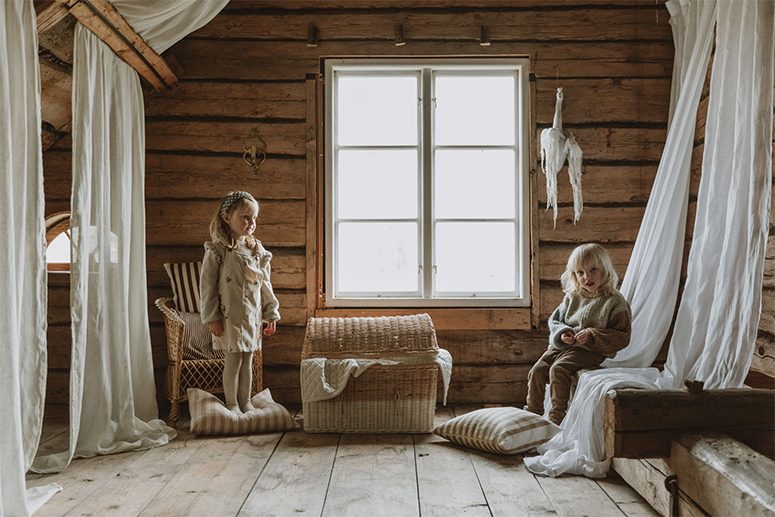 LAST SPRING, YOU DID AN INTERPRETATION OF TABLE SETTINGS IN THE FORM OF PHOTOGRAPHS THAT SEVERAL MAGAZINES ASKED ABOUT AND THAT MADE QUITE AN IMPACT. WHAT DO YOU THINK THE SECRET BEHIND SUCCESSFUL STYLING IS? AND ALSO BEHIND A SUCCESSFUL PHOTOGRAPH?
Often it lies in the simplicity of styling, which can be the hardest thing to achieve. Then finding the right balance in the picture, which is very difficult to see with the naked eye. It's only once you see the styling through the camera lens and find the right angle that you realize what's missing or should be changed. That's why we like the jobs where we're entirely responsible for styling and photography – LINUM often gives us free rein, which is extra fun, of course!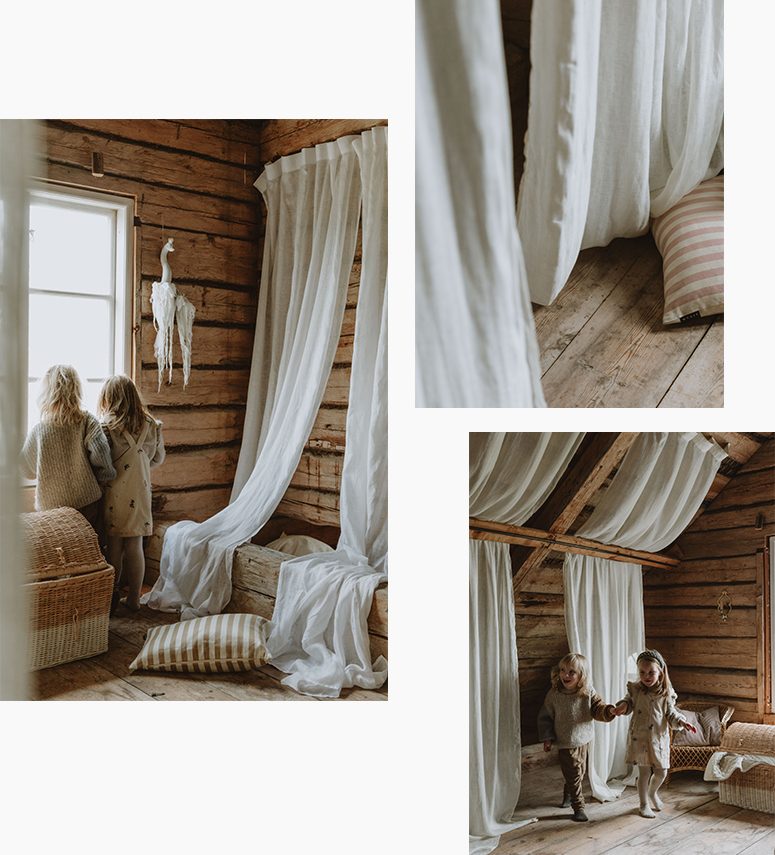 CURTAINS ARE COMING BACK INTO FASHION AFTER HAVING BEEN A BLANDER IDEAL FOR SO LONG. WHAT'S YOUR OPINION?
For a long time, we've had sheer curtains on the windows and over parts of our walls to give some softness to the decor. It gives a sense of coziness, which is what we strive for in our interior design. Curtains can change the whole feel of a room.